Rough Week
Last September my Step Father passed away. Since I was 4 years old his guidance was amazing. I just heard the news that my birth father was placed in a nursing home and his mind and body are slipping.
Both in their 90s, back deep in my mind, I always figured that my fathers would always be around. One down, prepare for number two.
Let's add on catching the flu. To be honest I don't know what to do with myself. If I lay down I have coughing fits, if I sit up it's not very relaxing. Life had been easy flowing for years and once again I am relearning a valuable lesson to go with the changes, feel my feelings, and take proper care of myself.
I moved up here from Southern California to open up my practice, leaving behind my family. They always say, "There goes Dr. Scott, trying to heal the world," but I've learned that I can't heal anybody, healing is in their hands. I just share the knowledge and provide the faith. Now it is for the physician to heal thyself.
This isn't Covid, almost at times like Pneumonia that I've had a few times. In "Anatomy of the Spirit" by Carolyn Myss, she researched how emotional states affect our physical body. With my throat sore, phlegm in my throat and upper chest, I wonder how are my words not congruent with myself. Also, where have I been withholding information?
Every problem is an invitation to explore deeper parts inside of ourselves. In doing so, we heal at deeper and deeper levels.
There is also a pragmatic issue that is obvious to me, I've been scheduling in people during my lunch breaks because we have been so busy. If I am not taking care of myself, I can't take care of others.

So it is off to my naturopathic doctor, getting acupuncture always seems to be a plus, and pound water like it is going out of style. My Lord have I been peeing up a storm. Yikes! But, all the supplements, the flushing, and being gentle on myself is paying off, but you would think by now I would have learned to slow down and pace myself.
I think what is in the back of my head is my father in some nursing home and I am separated from her right now. My first plan of action is to get myself back on my feet, then I will visit the man that helped to give me life.
I hadn't talked to my father for years, reconnected with him, and learned that he wasn't a brute at all, but some fun-loving guy who told the worst jokes on the planet. When he had me visit early one day, but didn't tell me where we were off to, I found out he was hired at Disneyland and I got to frequent it all the time. I suddenly had a Disney Dad!
So, I'm keeping this post short, to save my energy and cool my body down. Is the article more important than my health? No. Nothing is.
Check out the Carolyn Myss book. She is one incredible woman. I'll keep you posted.
Compassionate Care is Always Available
There are many more tools and strategies you can use in your pursuit of happiness. Here is where we come in. Contact us at Basic Steps Mental Health and let us support and educate you on this journey back to your loving heart center. Imagine living a heart-centered life, regardless of what is happening externally. We'd love to be of help.
For 25 years, Dr. Scott Alpert, the clinical director of Basic Steps Mental Health, has treated over 7,000 people with mental health and addiction problems, using a Psychological approach that mixes and matches ten of the top approaches used in the industry.  We are here virtually and in-person to help you get through this COVID-19 pandemic and many other difficulties you may be experiencing.
May you have good mental health.

Related Posts
Have you ever had thoughts that go around and around in your head? If so, get...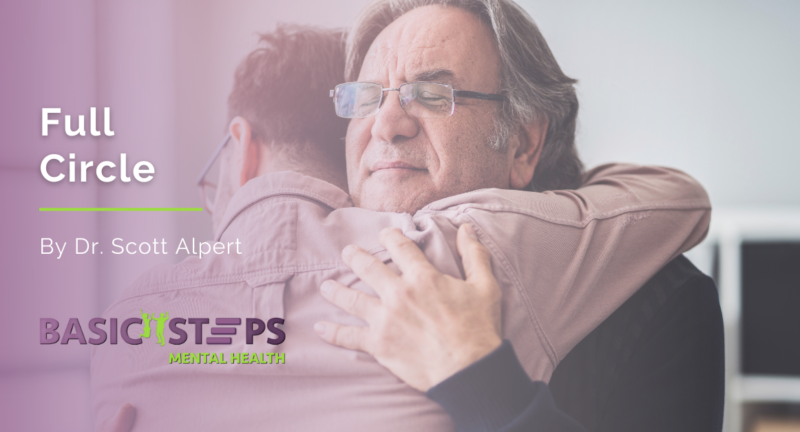 This week was my father's 90th birthday. He and I had been on quite a journey...