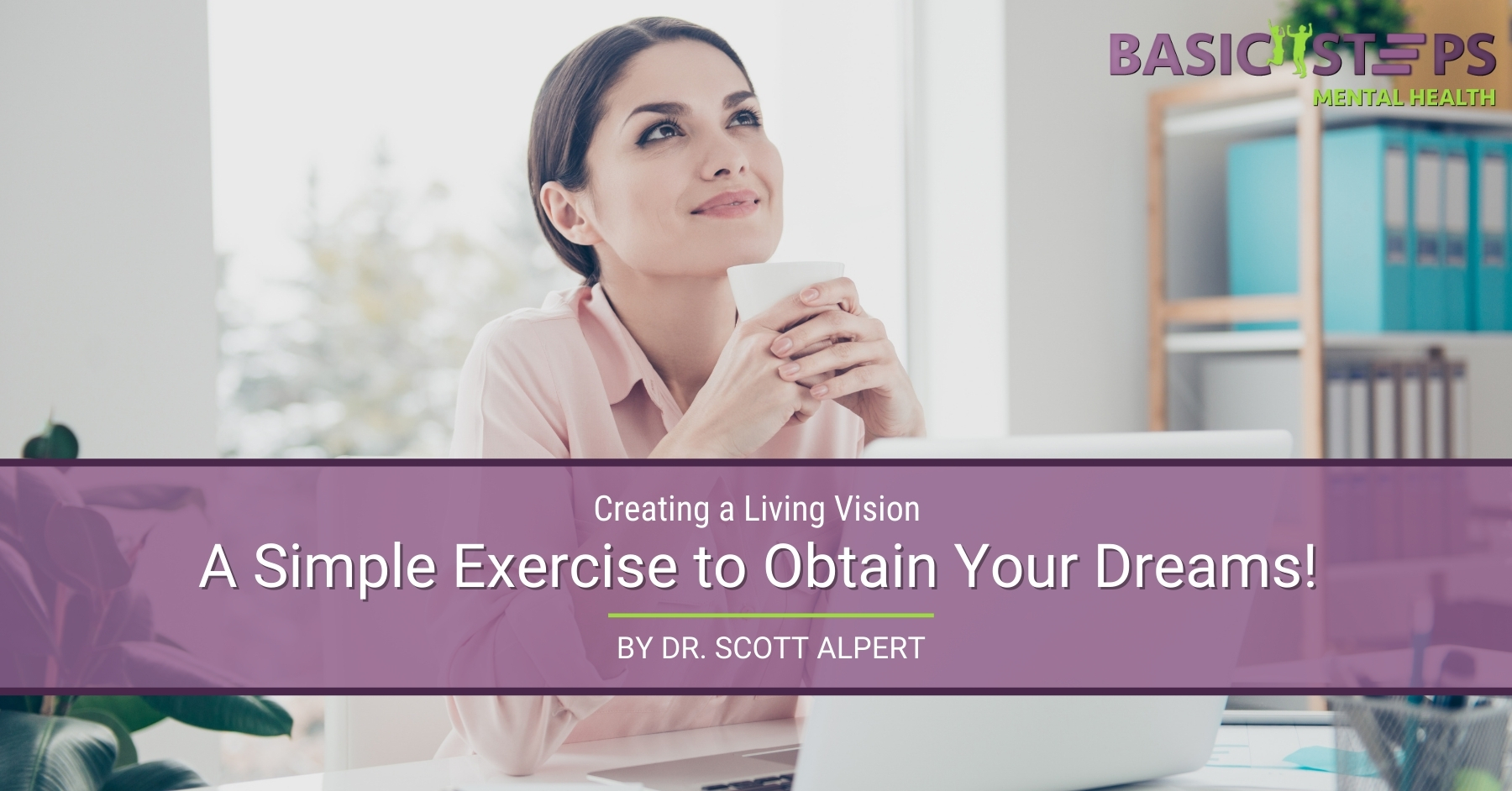 A Simple Exercise to Obtain Your Dreams!
How great would it be to create the world in your dreams? If you could, what would you want to have? Would it be your job? Where you live? Improved health and vitality? How would your family? How would you like that to be? If you are the type of person that focuses on "what is the worst thing that can happen?", have you noticed that you create the worst things? Why not train yourself to focus on the best thing that can happen, and a tool called "Living Visions" is a great vehicle for doing just that.
A Living Vision is a writing tool we use in our program, for people who do, what we refer to as – "Future Negative Fantasies." This is where you focus on the worst thing, imagine that it is actually happening now, and then panic about it. Why not win in your fantasies?
With Living Visions, all you need to do is write out everything that you want in a particular area of your life – home, relationships, music, vacation, etc., as if it is happening now. Living Visions are like a magnet that draws your desire to you. It actually is cheating because so many of these fantasies actually come true. Our company is a great example. We mapped out, two years beforehand, a vision of what our facility would be like, and it turned out to be better than we even imagined. This is actually an example of the Law of Attraction because our vision attracted to us our desires!   
Living visions are only for you, unfortunately, you cannot create or manipulate others.
Creating a Living Vision
Now the fun begins. Write out something you desire, in the present tense, as if it is happening right now. There are benefits to doing this. It helps you organize your thoughts and have a crystal clear vision of what you really want. It also opens you up to the possibilities of life. If you see it, you can be it.
Once the vision is fully in your mind, then write it out on paper as if you are actually experiencing it. Walk around in this visualization. Using all your senses can bring it more to life. As you do so, magically the blocks to you experiencing this seem to melt away.

I remember a post-game interview with Magic Johnston years ago after he made a last-second hook-shot from half-court. He said that he saw it go in his mind's eye and when it happened he wasn't surprised. He knew it would take place. This is the attitude to have when you write out your Living Vision. Know that you deserve to have your desires and simply lean into the experience.
On the flip side, do you want to succeed? Or, do you believe you deserve it? Many people have learned to limit their success in life, but why? "Learned Helplessness" is the belief that since we haven't succeeded in the past we are always destined to fail. Well, that stands true if we are doing the same thing over and over again and getting the same results. The solution is trying something different.
Is it a bad thing to be happy, joyful, and have all the things you want out of life? If you have been trained to only be helpful to others, the mere thought of helping yourself may seem foreign and uncomfortable to you. If so, consider this: how can you give to others what you don't have within? In taking care of you, you will be able to help them more effectively. Plus, it feels good too.
The Steps:
We recommend that you create from a heart-centered place.
Take in a deep breath, exhale and center yourself in your loving heart.
Set an intention to be creative. Follow your own heart and pull from within as you begin your writing process.
In your mind's eye, plop yourself into a future of your own making in which every dream of yours has just come true.
Write out this vision in the present tense, as if it is happening now. Use all of your senses. What are you seeing, hearing, smelling, tasting, feeling?
Emotions will attract this vision to you, therefore, use feeling words to color it up.
Enjoy the process.
Music Living Vision
Here is a brief example of one of my own. Note: This is very brief because when I go off on a subject, a book usually pops out.
I am having the time of my life! My dream of playing guitar live is now a reality! I am so grateful I was provided this opportunity by my incredible friend. He is all smiles and I walk out to the center stage. The roar of the crowd excites me. Am I really here? The venue is absolutely packed, and I can see so many familiar faces in the crowd who are all reflecting my joy! As I start to play I feel so confident, so connected to the music, and my guitar sounds fantastic. I think this smile on my face is going to be permanent. Playing this one song about a homeless man helps me appreciate my health, my choices, and my progression from the streets to this stage. My voice is spot on and strong. It feels as if I can sing forever! I want this moment to go on forever! People are singing along, seemingly in an effort to connect with each song. Who knew? I know my songs are simple, and I feel elated that people want to join in. Now is the moment I have waited for, my backing band is now kickin' in and the beat is going stronger. I am so impressed! We sound fantastic! I rock! We rock!  
And now it is your turn. Give it a try. What's the best thing that can happen?
Compassionate Care is Always Available
There are many more tools and strategies you can use in your pursuit of happiness. Here is where we come in. Contact us at Basic Steps Mental Health and let us support and educate you on this journey back to your loving heart center. Imagine living a heart-centered life, regardless of what is happening externally. We'd love to be of help.
For 25 years, Dr. Scott Alpert, the clinical director of Basic Steps Mental Health, has treated over 7,000 people with mental health and addiction problems, using a Psychological approach that mixes and matches ten of the top approaches used in the industry.  We are here virtually and in-person to help you get through this COVID-19 pandemic and many other difficulties you may be experiencing.
May you have good mental health.

Related Posts
Have you ever had thoughts that go around and around in your head? If so, get...
In today's world, it is not uncommon to feel overwhelmed, depressed, and stressed...