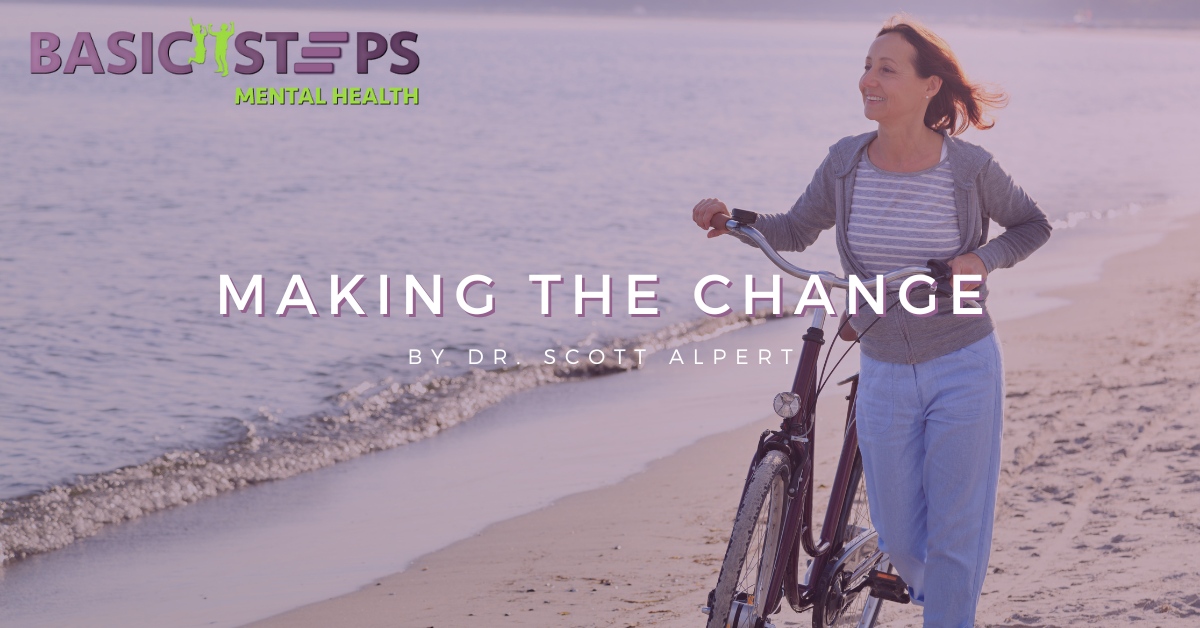 Making the Change
When you are sick and tired of being sick and tired then life becomes something to dread. I for one am all too familiar with waking up in the morning and wondering if, no, wondering when, I was going to have another panic attack. Then shortly after would feel my heart pounding. At that point, all I wanted was to do anything to stop my life from being a living hell. There is an art form to changing. It can be easy, it could be the hardest thing you will ever do, but ultimately it boils down to holding fast to hope that things will be better and keep pushing forward.
Change is not having somebody else do things for you or even praying the problem away. We say God meets us at our point of action, instead of "a force that will return you to sanity." We need to take the action steps and continue doing so, God will be with us each and every step. Change is always available if you open up to it. We often subconsciously block ourselves from positive things until we ready ourselves for the change. The question is, are you willing to get better?
This is an interesting concept, in opening up to change and allowing it to happen. Many people in our groups initially go through the motions, where still in the back of their minds, the pull of the ailment or the substance is too enticing. It is giving up one's normalcy on the belief that things will change for the better. What if they don't? I ask what if they do?
To create change, take the extra step. What would happen if you just gave up and all that was needed was one more step (effort)? Please don't shortchange yourself keep making the effort. 
As Carl Rogers, from Person-Centered Therapy says, "We have all the resources inside of us to change," it then becomes a process of tapping into the love, peace, and serenity we have underneath all of the turmoil. Oh, it is there. We've just lost connection with it, that's all. 
I remember when I first learned to meditate. Yeah, it was a shit show in the beginning because I was judging myself so much. My head was bombarded with my familiar negativity, then it shifted to getting into the perfect position, having the perfect thoughts, and forcing my body to align to a force I had no clue about. That type of focus lead to frustration and defeat. Until I sat in prayer, hoping to connect to a creator of all, and like magic, this something began answering questions I had on my mind for years and I was flooded with joy!
This underlying joy is in there, as well as every emotion that we have experienced. Learning how to bring it to the surface can be mastered and in doing so, at any moment in your life, you can access it, which we refer to as Mastery. Just imagine mastering this process while you are in the midst of a panic attack. It is not only possible it is practical.
What stops us from changing is old assumptions, patterns, and the belief that we don't deserve to be happy, wealthy, in a good relationship, and have sobriety because of the things we have done or that we are just innately bad. There are more we could add to this list, but it is a good start for this article. If we continue to feed our mind with negativity, that is all we will attract. Training ourselves to focus on the positive, well, that is the key to making a lasting change.
When thinking negative is your natural state, then immediately shifting to positive can be a shock. The negative is normal and with that gone, who you are? I can recall the time I was an addict and when I first became sober was strange. I didn't like it because it was out of the ordinary. My mind was different, my body craved what it was familiar with, and every fiber in my being just felt like it was on fire. I get these feelings when I change my diet now. My body will get used to sugar, pasta, and fatty fast food, but in making the change, my body feels stronger and has more stamina, but still, I want the buzz I feel from a 5 Guys burger.

In the first year of recovery, 60% of people relapse. What improves the odds of success is belonging to support groups, attending therapy, and taking medication that is a deterrent to using, like Vivitrol or Antabuse. With these medications inside of you, it increases your odds of improvement because no longer is there the option of backsliding. Still, people will try to find a way around the deterrents, which often leads them to the emergency room. Shoot, one of my best friends had the lap band surgery for obesity and found a way to eat around that and gained back all the weight. Relapse can lead to giving up your efforts to change for good if you allow it to. We see relapse as just information. If we learn from it and obtain that missing piece in our individual puzzle, it can lead to incredible healing!
I've asked clients the reason why they relapsed. And here, relapse is not just from substance use but also refers to having angry outbursts, food or sugar binges, or lying. Yes, there are many who are addicted to using lies to get through life's struggles. Without all of these habits, suddenly we are thrust smack dab into intimacy with ourselves – and this could be frightening if you don't know who you are. Often we define ourselves in changing for the moment to please another person or group. We've seen people who are incredible in our process groups, but out on the street, they are simply lost. Learning something is one thing – repeating it in your daily life is something different.
Learning to sit with ourselves in silence is a big key to change. The constant doing and stimulation with cell phones, social media, or the media in general, moves us outside of ourselves. How often are you frustrated with the actions of others? "These people are idiots! Don't they know they shouldn't cut in the fast lane on the freeway like that?" In fact, the other day I was driving in Southern California on the 55 freeway and needed to transition to the 5 freeway. I signaled to move into a five-car length free space, slid on over, and some man in a truck sped up to sniff my butt and was giving me all these hand signals while shaking his head. How dare I impede on his domain. I wondered what kind of stressful life he was leading.
Making the change means moving away from the attachment to others' thoughts and actions, and especially trying to please them, or even be like them. It means focusing on maintaining a positive or loving state within you. If you have had traumatic experiences in the past, the first priority is going through therapy to process through that. If not, you will subconsciously try to protect the wounded part within yourself. Who wants to get hurt again? So we are on guard, avoid, and look for the negatives in others. That will only attract the negatives within yourself and others. You know, the law of attraction: When you are down people will kick you. What happens when you are up?
Change is not a process of making people change first so you can find your peace. Has this strategy worked for you? It's pretty frustrating to put in all the effort to change someone who doesn't want to change. This takes place in relationships. "He isn't sensitive to my needs and never communicates." In trying to change our partner, it shows that we don't love them as they are. And no, it doesn't mean you allowing them to drink heavily or practice other risky behaviors. These need to be dealt with accordingly. What it does entail is you modeling the behaviors you want to see in them and hope they get the clue. If you can love them, despite their lack of communication, then a positive change in you can be felt. 
How do you want to feel? Meditate on that. How do you want to act? Visualize this. Be the change you want to see in others. They never taught me this in school. Nor did they teach me to take care of myself first. I had to learn that one in graduate school.
One of my professors asked me why I wanted to be a counselor and I replied I wanted to heal the world! Yeah, I was kind of a dreamer from the 1960s at the time. She said, "You came to the wrong school. We can't heal anybody but ourselves." Well, that took the wind out of my sails. I didn't know myself and had a strategy that if I healed everyone I would feel safe. You see, I grew up in a chaotic environment and sure as hell didn't want that to continue, though learned I was doing things backwards. To find a lasting peace I needed to search for it on the inside, not manipulate others to achieve a temporary state. It is in this internal search that a lasting change can be found.
We were taught that everything around us is just an illusion. What does this mean? Well, whatever happens externally goes through our mental filter and we put a label on it if it is good or bad. They were trying to train us to be neutral when we observed something. It wasn't good or bad but something to take in and grow from. Sometimes the events will push upon old wounds, then we have the opportunity to ride back that feeling, to where it originated from, apply love to our hurt part inside, and process through that traumatic experience. This core work can heal out an issue for the last time. No longer protecting a wounded part from within, we can be more neutral, loving, and positive. Thus, that driver. His negativity didn't mean I needed to be negative too.
Making other people's feelings more important needs to be changed. Many feel that if they did allow their light to shine it would threaten others. It was hard for me to keep my sobriety at first because my friends were used to using with me and my refusing to do so upset the normal way of living. I eventually bought into the peer pressure after ten years of sobriety with one hit of pot. I didn't want to smoke but when a room full of people were pressuring me during an L.A. Rams game, I gave in. Five minutes later a large earthquake took place. Boy did that suck and I sure got the message from God – so I thought. That was in 1992. I guess I have been sober for a long time ever since. 
Making yourself the number one priority, moving away from the substance, the computer, or the television newscast can be difficult. We have been trained to make other people more important than ourselves. Standing up for yourself, and making yourself the first priority can feel weird, frustrating, or just plain wrong. "You are not supposed to care for yourself – that is selfish." I've heard this statement hundreds and hundreds of times. How can you care for others when you are not caring for yourself? And, the type of self-care I am referring to is getting to really know yourself and following through on your commitments to you. Try this for a day, a week, a month, and so on. This breeds self-confidence and real change. 
Ultimately it boils down to how you are with yourself. The big question is: How are you with yourself when you are down? Do you beat yourself up? Get frustrated? Or, can you be gentle with yourself, give yourself a sort of pep talk, and get back on that horse one more time? On the flip side, how are you with yourself when you are up? Do you deserve the happiness, the financial abundance, do you feel you are threatening others and must sabotage things to keep the status quo?
Change takes place when we take the action steps, hold onto the vision, the hope, and keep moving forward. For you spiritual types, God meets us at our point of action. Are you willing to pull yourself out of the familiar rut? Let us show you how.
Compassionate Care is Always Available
There are many more tools and strategies you can use in your pursuit of happiness. Here is where we come in. Contact us at Basic Steps Mental Health and let us support and educate you on this journey back to your loving heart center. Imagine living a heart-centered life, regardless of what is happening externally. We'd love to be of help.
For 25 years, Dr. Scott Alpert, the clinical director of Basic Steps Mental Health, has treated over 7,000 people with mental health and addiction problems, using a Psychological approach that mixes and matches ten of the top approaches used in the industry. We are here virtually and in-person to help you get through this COVID-19 pandemic and many other difficulties you may be experiencing.
May you have good mental health.

Related Posts
Locus of control is a fancy term for who we believe is in control of us. If you...
Have you ever felt like you are destined to deal with the same issues over...