What to Expect from Therapy
If you have never gone through counseling and wondered what happens in sessions, then this article was written for you. I remember the first time I went to a counselor and could feel my heart pounding in my neck and was looking for an excuse to sprint out of there. Though to be honest, I just found myself talking about myself, which was strange since at that time, all I wanted to do was please people, which wasn't really pleasing me.
So what can you expect from a therapy session:
In the first session, it is all about obtaining the facts about you. Since you are the historian of yourself, it merely entails you talking about you. Traditionally, a history is taken, the counselor looks for "red flags" or warning signs that something needs immediate attention. The red flags are:
1. Are you in a medical crisis?
Many mental health problems issues stem from problems with your body. So a history of your physical ailments is taken (if any). It may be as simple as getting you on the right blood pressure medication, or in my grandmother's case, getting her on medication for her thyroid seemed to return her back to normal – though grandma was not the normal type – though she returned back to her normal.
2. Next, the therapist needs to know if you are taking prescribed medication, what brand, and how much?
Also, if you are using substances? Many people, for example, use cigarettes or cannabis to calm their nerves but are actually increasing these symptoms. The same is with alcohol. Alcohol is a depressant and can be creating major depression.
3. The next focus is on your thoughts and feelings.
Here you get to talk about what symptoms you have and for how long you have had them. If the symptoms recently happened and you have never suffered from any problems, then what went happened to cause them? Sudden onset may need a crisis intervention or a trip to your doctor. For example, I had one gentleman who had unusual symptoms for a year, then it dawned on him that at the time the symptoms began, he had suffered a head injury while being arrested. Working with his doctor, soon the light bulb came back on for him and he returned to normal.
4.  Next, we want to look at the system of your family of origin. How did your family interact?
Is there a family history of mental illness, substance use, or abuse? Our family of origin has a tremendous impact on us and most mental illness stems from early childhood experiences. If you suffered trauma at an early age, a special set of tools will be prescribed for you to do as homework and it is important to proceed at your pace in order to deal with this sensitive area.
NOTE: If you have suffered abuse, left unattended, the problems tend to get worse. Many people try to numb out to these core issues through substance use, excessive exercise or activity or will isolate and try to hide from the world. It is important to find a therapist that you feel safe with in order to process developmental wounds because they won't heal on their own.
5.  By law, we need to screen for thoughts of suicide or wanting to harm another person.
We are mandated to try and keep people safe from themselves and others. We are also mandated to screen for abuse. If you are abusing children, the elderly, or dependent adults that can't care for themselves we need to make sure that they are safe too.
6.  The next step is finding out how your life is currently.
Can you communicate properly or do you tend to hide and keep secrets? I educate people at this point on Developmental Psychology and we will discuss where a person believes they have developmental wounds.
7.  We then will educate people on our credentials, education, our approach, and what experience we have in the field. 
I will let people know that I supervise college interns and teach them how to be therapists, I write self-help books on psychology and have appeared on the radio numerous times. Since I have close to 30 years in the field and have worked with over 8,000 people, I assure people they are in good hands. People are also told about the benefits and detriments of therapy. Old wounds can come to the surface in treatment and bring up old feelings. The benefit is learning to process through them.
8.  If people are entering treatment because it is mandated by the courts, a formal assessment is conducted.
This assessment includes all the above and recommendations are made to the courts for proper treatment. I believe that when problems are discussed, it is important to properly address them, or the problem tends to be repeated.
9.  Now the formal treatment begins.
Here is where some initial tools are provided for the person to practice when they leave. One hour of therapy in one week while there are 168 hours in a week can only do so much. Here we have a discussion on what type of care the client wants. I will not sell our intensive programs unless it is obvious the person is in a crisis and needs more regular care. People are educated on the programs we provide and if they feel they need to dive deep into their treatment, we will start the admission process.
NOTE: Our programs are just like a psychology school where psychological approaches are taught, participants practice the skills on one another, and in a sense learn how to be a counselor to themselves. At the end of our Intensive Outpatient Program, participants are able to do a self-counseling, where they literally counsel themselves on paper!
10.  By the end of the first session at Basic Steps Mental Health, you will learn about the basics of our Spiritual Psychology approach.
How we treat people in four ways – physically, mentally, emotionally, and spiritually. Though, for many, spirituality may confuse them. The spirituality in our program is not religious, it is a belief that love heals. If God is love then love is the ultimate healer.

I thought in school I was going to learn how to pray and meditate problems away. Well, actually that was the furthest from the truth. In order to heal we need to address the mental and emotional levels, so there is an emphasis on those and clients learn 10 psychological approaches to address the mind, body, emotions, and spirit in our program. Therefore, the spirituality in our program is the focus on love and forgiveness of self. We are our harshest critics. Learning to forgive oneself is powerful and life-changing, though in order to forgive, we need to process our thoughts and feelings first.
I often forget what it is like to enter a counseling office for the first time. For me, I did so in 1980. Probably before you were born. For us therapists, it is easy to assume that other people look at life the same way we do, but that is wrong and I need to continually center myself, try to look through another person's eyes, and see things the way that they do. Letting go of my preconceived notions and let the person explain fully what they are going through helps me to understand the particular issues that people come into treatment for. No, people have not had the same education or field experience I have had, so all I can do is listen, educate, and listen again. My interns have heard me say this over and over again. "Seek to understand, before being understood." I love this Steven Covey quote.
What interns need to understand, and I myself too, is that you the customer are the expert of yourself. It is more important for us to really listen to what you are saying, understand you, and let you know what we heard you say about yourself.
What is interesting about the counseling field, can be boiled down into one concept. It is the gathering of two different people from different backgrounds and situations, trying to find a solution together that is simple to follow and effective.
I like what I do. That is because I like people and have faith in them. We were never given a handbook on how to properly live our life. If I was given one, I would have probably burned it when I was 17. Nobody at that time was going to tell me how to live my life! And who am I to tell people how to live theirs?  Therapy is not a counselor telling you what to do. Therapy is getting things off your chest, being with somebody who truly cares about you, discovering options that you would like to experiment with, and then seeing if these options worked or not.
Since this article was written off the top of my head, here is my disclaimer. I am sure I forgot a thing or two to include. If you have any questions or comments, please call and I can add to this article.
In closing, I thought it would be important to write about my very first counseling experience. Well, actually the second. A year before I had begun volunteering at Tarzana Treatment Center in Tarzana California, and one of the staff members asked me to talk with someone who was upset, who took one look and shook his head, and left. So, a year later, I was in graduate school, got to become an intern there, and was asked to treat a couple who were going through the program. Both were men, though one was a transvestite, dressed, and looked like the most beautiful woman I had ever seen. It was hard to see any male in her. As the session flowed I came aware of something that had a profound impact on me. They were people, just like me, who had problems, cared about each other, and wanted to make positive changes in their lives. This message also hit me when I worked years later at a luxury residential treatment program in Malibu. I was counseling Hollywood stars and they turned out to be people like me that had difficult childhoods and needed to learn how to process through their past.
People are people. 8,000 and counting. I have treated a lot and still enjoy every moment of it. I'll tell you why. There was a quote by Carl Rogers, who developed the Person-Centered Therapy approach in the 1950s that really impacted me. So you know, Carl Rogers was famous for the encounter groups of the 1960s.
He said:
"When someone really hears you without passing judgment on you, without trying to take responsibility for you, without trying to mold you, it feels damn good. . . . When I have been listened to and when I have been heard, I am able to re-perceive my world in a new way and go on. It is astonishing how elements that seem insoluble become soluble when someone listens. How confusions which seem irremediable turn into relatively clear flowing streams when one is heard."
Bottom line: Seek to understand before being understood.
Compassionate Care is Always Available
There are many more tools and strategies you can use in your pursuit of happiness. Here is where we come in. Contact us at Basic Steps Mental Health and let us support and educate you on this journey back to your loving heart center. Imagine living a heart-centered life, regardless of what is happening externally. We'd love to be of help.
For 25 years, Dr. Scott Alpert, the clinical director of Basic Steps Mental Health, has treated over 7,000 people with mental health and addiction problems, using a Psychological approach that mixes and matches ten of the top approaches used in the industry. We are here virtually and in-person to help you get through this COVID-19 pandemic and many other difficulties you may be experiencing.
May you have good mental health.

Related Posts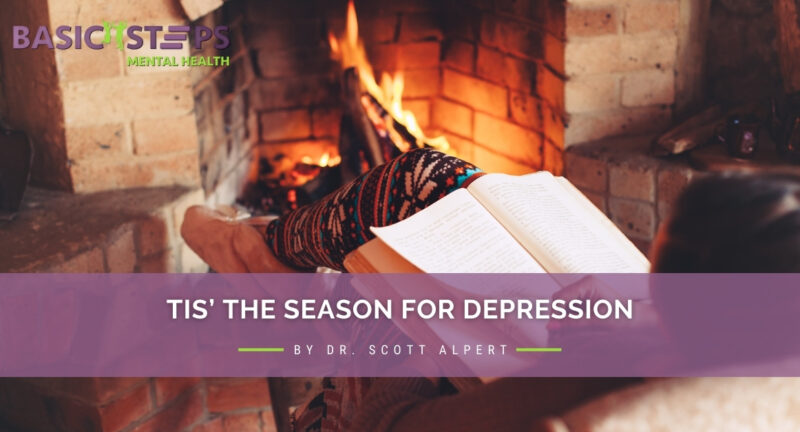 Welcome to the holiday season. If you've had issues in the past, they tend to...
When I started in the field as a counselor, my supervisor Marie preached about...