Visualization – A Fun Exercise
Visualization is a great tool to use to take a break from normal life and feel at ease. Psychosynthesis, which is the first Spiritual Psychology approach from the early 1900s, used visualization as a way to center a person, and bring them good feelings. Do you feel a bit adventurous?
If you need a pick me up, then follow the instructions and just go with them. This is usually done in a closed eye process, but in doing so, you wouldn't be able to read. Instead, just read and try to remain relaxed.
We will start off by using the 5 to 1 method of relaxation.
Take in a deep breath and as you exhale, center yourself in your loving heart. Take in one more deep breath and as you exhale let go of all the worries and problems of the day.
Picture the number five of the most vivid red. Breathe in the relaxation of the red number five.
(Pause)
Next picture the number four in the color of orange. Allow the orange number four to relax you more and more.
(Pause)
Give yourself permission to relax and feel at peace.
(Pause)
Next, bring to mind the number three in the color yellow. Let the yellow number three relax your mind, body, soul, and emotions.
(Pause)
Next picture the number two in green. Like a bed of grass allow yourself to be comforted by the green number two.

(Pause)
Lastly, picture the number one in the most vivid blue. Allow the blue number one to bring to you total relaxation.
(Pause)
When you are ready imagine that you are walking through a misty rain forest. It is a bit blustery outside, but you are bundled up and able to handle the cold. Everywhere you look you see all of God's creation. There are trees that reach for the sky in all shapes and colors, moss is freely growing along the side of the path that you are walking on, and with every step you feel part of something incredible – life in all its glory.
The coolness of the air caresses your face as you walk along a path decorated with wildflowers of every color, size, and shape. The forest is filled with the smell of pine and Jasmine. The mist itself brings peace, calm, and a sense of wonder. All the while you feel like you are walking on sacred ground.
The canopy above is so tall it darkens the landscape. Still, you move forward with a sense of amazement. There is this excitement building inside of you as if something extraordinary is about to take place.
As the path turns, you are away of a smaller path that seems to be going into a cave. Feeling adventurous you find yourself walking on this path with a sense of wonder. What appears to be a door is clearly seen at the entry of this cave and as you walk up to it, you notice the beautiful texture in the wood as if the grain is depicting pictures of your life.
With a gentle push, the door opens and beautiful light cascades out. You walk inside to a huge room lit by the light from stained glass windows. The floor is marble and at the corner of this room are presents that are stacked to almost the ceiling. These gifts represent the presents you haven't been able to receive from yourself and others and have stockpiled here.
Why don't you open up one of them? In fact, do you see that present that is hopping up and down? It desperately wants you to open it. So, you find yourself walking up to that present, and not taking any time, you simply rip it open. What is the gift that you have given to yourself?
It is time for us to leave. Please take the present with you and know that when you need another pick me up, you can return here at any time. With that you find yourself walking back to the wooden door. It closes automatically after you walk through it. You find yourself back on the short path, but something seems different – the sky is clear, and there is no mist to be seen. Everything looks so fresh and alive. You begin to notice wildlife, birds, and it seems they all accept you.
As you continue to walk back down the path you slowly return to where you are at.
What was the gift you have given to yourself?
I hope you have enjoyed the visualization. Make sure to keep reading the blogs posted on this site.
Compassionate Care is Always Available
There are many more tools and strategies you can use in your pursuit of happiness. Here is where we come in. Contact us at Basic Steps Mental Health and let us support and educate you on this journey back to your loving heart center. Imagine living a heart-centered life, regardless of what is happening externally. We'd love to be of help.
For 25 years, Dr. Scott Alpert, the clinical director of Basic Steps Mental Health, has treated over 7,000 people with mental health and addiction problems, using a Psychological approach that mixes and matches ten of the top approaches used in the industry.  We are here virtually and in-person to help you get through this COVID-19 pandemic and many other difficulties you may be experiencing.
May you have good mental health.

Related Posts
Did you ever believe this pandemic would go on so long? Isn't it surreal to go...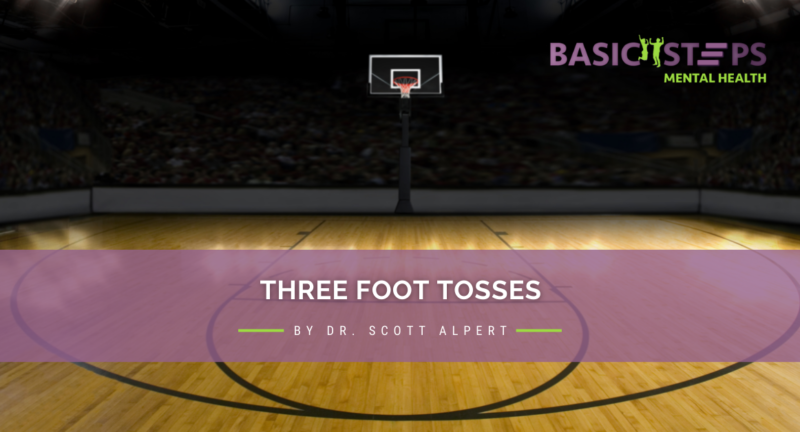 We play a basketball game in our program where people are asked to take three...