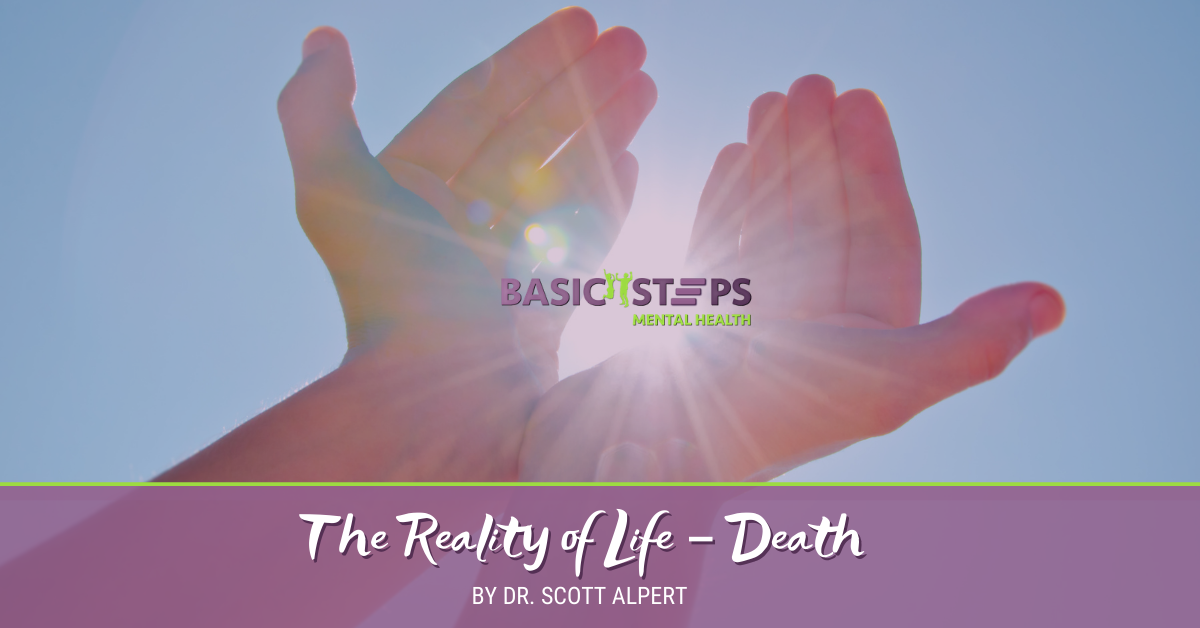 The Reality of Life – Death
The day after Christmas, after the Zoom parties, the nice meals, and the exchanging of presents, I got bad news one after the other. My fiancée from twenty years ago was found dead in her apartment probably due to alcoholism. She had just turned 60. Alcohol had put a chasm in our relationship back then and probably took her as a victim now. A bitter pill to swallow because we had been very close. Then I found out that my Stepmother died from Covid after testing positive ten days earlier. She had just turned 80 and at least had a long life but it feels cut short as well. What an emotional roller coaster in just two days.
This got me thinking about life itself. We never know when our life will end. I wondered about the legacy they left behind. And what about my own? This marks the end of a very difficult year and difficult life for them because both of these women battled with mood disorders.
I think dealing with my stepmother as a child spurred me on to work in this field. My stepmother was mostly bedridden and all the medicine they pumped into her didn't seem to work. At times she was fun, especially when we went to Disneyland and she let her inner child out. My fiancée too was incredibly loving, she worked as a massage therapist and helped out a lot of people, not only as a physical therapist but as a budding psychotherapist – since we met in graduate school studying psychology. Still, she couldn't shake the bad memories of her youth.
I often marvel at how many mental health workers I have treated. In fact, I have treated a few Psychiatrists. It shows that we are all human, have our ups and downs and need somebody to lean on when the going gets tough. The key is letting somebody in.
My fiancée was so much like me – when there was a problem, she liked to solve it by herself. I do so as well until the stress gets too great and will reach out to others. What she was going through at the end needed outside assistance which never came. My heart goes out to her and suffering on her own in the end. My stepmother ended up in a nursing home and that is where she got exposed to Covid. I don't blame them one bit. This is a nasty virus and since she had immune issues she was in a fragile class of people who were very vulnerable. Plus, all of my anger and blaming isn't going to bring her back. She had a lot of struggles in the end and I hope she is resting in peace.
This isn't new to me. I have lost a lot of family and friends in my over 60 years of life. Most of them touched me to my soul as did these two women. It is interesting that they both passed at the same time because they were cut from the same fabric – both ornery and loved a good debate. I grew a lot from both of them. First of all, I learned to communicate my true feelings even if they were upset and irrational. I learned to have compassion, knowing they were both doing the best that they knew. I also learned that I cannot change anybody, that that job lays with themselves. Plus, it is a full-time job to change myself.
While I was in graduate school – which is ironic since I met Joan the fiancée there – we were given a relationship project to work on the people we had the worst relationships with, so I chose to work on my stepmother. I learned that when I set clear intentions before communicating with her to remain loving, really listen to her, and enjoy the conversation, it greatly helped. I couldn't believe that how I was inside of myself would have an impact on her. She became happier and less critical of others.

It is interesting when a family member dies. All the paperwork, the family planning, and meetings. Do we bury or cremate? Meeting after meeting has shown that the overall family is having a difficult time with this. I always thought that my parents were going to live forever. They were the Gods that created me but as I have grown I have realized that we are all the same – trying to cope with the difficulties of life and hopefully overcome them. Cynical it may seem, but after all the therapy I have gone through and all the sessions I have conducted, life seems to be challenging to remain positive when the world is going through such difficulty. I need to center myself each day and focus on being happy, this includes shutting off the news and listening to instrumental or uplifting music.
They are gone. Amazing. Two people that we're loving, argumentative, called me on my shit is gone for good. I miss those arguments. While living with Joan I often told her, "I said that, but I didn't mean it as you took it." Then one night I woke up on the floor next to the bed. She had kicked me out of bed because she was still angry with something I said earlier in the day. I chuckle about that now. This is actually a fond memory.
Spiritually speaking the soul moves on. If we don't work through our issues in this life we need to return and face them again. That is why I am working so much on my cynical side, as well as my issues with anger. I want to clear this out so I don't have to return.
I remember wondering as a child where is the happy world that was shown to me in the picture books, the one that I saw on Mr. Rogers Neighborhood on T.V. where everyone is loving and happy all the time. I would wave hello to the trashman and my friends would question why I did so. I would always have a smile for my fellow baseball player and they wanted to yell out – "Kill the Ump!" As a teen, we moved to a different area and I was treated like an outsider, picked last in sports and I was one of the best. I figured that as an adult I wanted to be in a profession that would change that and make the world a more happy and loving place. So, this is the legacy I am trying to leave. I know that this was why Joan and I connected because she wanted a world like this too, but she was overly sensitive and needed a drink to calm herself down. I learned the value of social support, plus the importance of working on my own issues.  
2020 sure went out with a bang. I sit here sort of numb, realizing that this is a process I need to go through with both of these loved ones. I know that I need to be gentle on myself in this early period of loss. I am so grateful that I met both of these women. They were both spunky and didn't back down from an argument. I think for both it was sort of their entertainment – to be honest. I am also grateful for my family and friends and the support they are showing to me. Today I am getting counseled. What comes around goes around I guess.
One interesting note. I was asked to write a pen pal letter to my stepmother by my family. We are all trying to deal with this creatively. When I was doing so my computer froze, went blank, and I had to restart it. Even in death, it seems that my stepmother is still toying with me and it made me laugh.
So for both of you, Beth and Joan. Just know that I will always love you and I wish you both peace and joy, in fully believing that the soul lives on. You both will be missed and I don't plan on seeing you again for another 30 plus years or longer depending on science.
Compassionate Care is Always Available
There are many more tools and strategies you can use in your pursuit of happiness. Here is where we come in. Contact us at Basic Steps Mental Health and let us support and educate you on this journey back to your loving heart center. Imagine living a heart-centered life, regardless of what is happening externally. We'd love to be of help.
For 25 years, Dr. Scott Alpert, the clinical director of Basic Steps Mental Health, has treated over 7,000 people with mental health and addiction problems, using a Psychological approach that mixes and matches ten of the top approaches used in the industry.  We are here virtually and in-person to help you get through this COVID-19 pandemic and many other difficulties you may be experiencing.
May you have good mental health.

Related Posts
When a family member is sick it puts the whole family system out of balance. The...
Dig in, it is rumored that the restrictions from the COVID-19 Virus will be going...