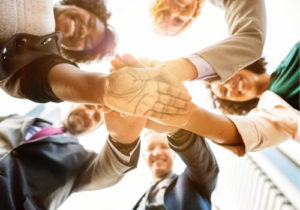 The Intensive Outpatient Program (IOP) at Basic Steps Mental Health, is modeled after the coursework at the University of Santa Monica (USM), where I obtained my Master's Degree in Counseling Psychology.  Since the coursework made a major impact on all of us students, we decided to teach our clients the professional tools taught in school so they would be able to work through problems in an ongoing basis.
USM was amazing. Here we were, all 220 of us students, packed into a large auditorium, learning and practicing different psychology approaches on each other and we all learned, grew, and healed. In the end we were seasoned therapists, ready to take on clients in the real world.
Basic Steps Mental Health could be viewed as a school on life. Many people tell friends they are going through a Spiritual Psychology course, which they are, though it is also a place of incredible therapy.
This is treatment the way you always wanted it to be. We progress at the pace of our clients and even though we have our curriculum, it is more important for us to go at a gentle pace so people really grasp each concept presented.
I have presented this material for over 29 years, in substance treatment, crisis care, to the ultra-rich and famous, to those who are homeless, and it always amazes me that even if people feel that they don't have any problems (for example couples who are highly functional), they will still get a lot out of it. Why? Because the tools are practical and address real problems at their root.
When I began my career as a counselor, a client asked me why they didn't teach this in school. I sure wish I had learned this in middle school when my anxiety began. At the time I tried to treat this how others did, through substance use, blaming others, and being a bully.  Unfortunately, this sent me down the wrong path, though because of it I am able to relate to people who have been doing the same.
The Intensive Outpatient Program (IOP) is a four-week course, conducted three days a week for three hours a session. We begin the day with a centering process, then there is a lecture on a particular psychological approach, handouts are provided, and then participants break out into duos to practice the particular approach on each other, just like we did in school. In the duo, one person acts like a counselor, and the other acts like a client, all under the guidance of our staff. I believe that when you teach something you also learn. And trust me, some of these sessions between the participants are better than the ones I have. Hey, it happens. Sometimes it is easier to talk about sensitive issues with a friend instead of a professional. As long as healing takes place, that is all that really matters.
One thing to note here, our staff is monitoring the duos to ensure the right format is followed and to answer any questions. We want to make sure people understand the processes since they all come from evidence-based approaches and are more effective if followed to a tee.
A client, who was a psychologist, said he taught many of our approaches at his university, but our method brought the material to life! This confirmed that the education I received at USM was state-of-the-art.
The University of Santa Monica was world-renowned. Classes were conducted one weekend a month and many flew in from all over the world to attend. After the weekend was over, we were given homework to fill out and then would return for more coursework the following month. There were people of all faiths, ambassadors from different countries, students flocked in from Australia, England, The Netherlands, Canada, South America, and all parts of the USA. It felt like a mini United Nations. I learned one thing, that people were all the same. We shared the same fears, guilt, and had a yearning to improve our lives, and help others.
Once a duo is completed, we discuss our experience as a group. More information may be provided at the time. Then we generally perform another duo, or have an individual counseling session, have another group discussion, or we will lighten the mood with Karaoke singing, shooting hoops, or doing creative artwork. Therapy doesn't have to be all hard work. In fact, many people have really changed by simply dancing. One person got inspired as they sang, "Born to be Wild", and came out of their shell.
At the University of Santa Monica, they had the slogan: "School the way you always wanted it to be." Ours is similar: "Therapy the way you always wanted it to be."
At the end of our four-week course, people may continue treatment and go to a deeper level with the approach, or go through individual sessions, or run for the hills (just joking). We teach the basic skeleton of 10 psychological approaches, and it is important for people to continue to practice them, in order to master them. Four weeks of being exposed to this material didn't have me fully grasping the approach as a student. It took me some time in order to literally transform. I look at what we do as providing initial stabilization, after that, ongoing work is important. We don't force people to continue, and to be honest, many people feel strong enough to move forward in their lives without going through follow up sessions. People are different. I ask people if they feel 100% healed at the end of treatment. If not, continuing with treatment is important.
Do we fix people? No. I am not that egotistical. I fixed myself using this approach and that is all I can go on with 100% accuracy. Each person that enters treatment is in control of their destiny and will know within themselves if the methods taught have made a difference. 8,000 plus people I have treated, and success rates have been incredible. This all depends on the effort somebody puts into the coursework.
One item that sets Basic Steps above the rest is our Self-Counseling method. Here people literally counsel themselves on paper. Once they understand how to be both client and counselor and are familiar with the counseling approaches, they are able to do this with ease. Look around at any other program out there and this one tool is unique.
Basic Steps Mental Health also treats problems four ways: Physically, mentally, emotionally, and spiritually. If we were to focus only on one of these dimensions, it puts a person out of balance. If a person was to only do the right behavior over and over again (Physically), the underlying thoughts and emotions left untreated would cause them such distress they probably will relapse or revert back to how they were at the onset of treatment.
Spiritual Psychology believes: "When love is applied to hurt we heal." This differs from Psycho dynamic Psychology which believes that once an issue comes to the surface from our subconsciousness, people feel better. Well, in doing crisis work for 11 years, that type of treatment can re-traumatize a person. Here is where Spiritual Psychology leaps into action to apply love to the part inside of you that is emerging.
It boils down to you. Are you willing to take this journey? Are you open to going through a real approach? And when? I think the biggest challenge is simply getting into the facility. After that, well, that's where the magic takes place.